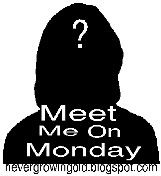 Questions:
1. What is your favorite kind of fudge?
Clotted Cream, a thick cream we usually eat with scones, strawberry jam and tea here in the UK.
Clotted cream is available from http://www.britishdelights.com/cream.htm, its not quite the same as Cornish clotted cream but it's not bad and is available world wide from British Delights.
2. Is there snow outside your window?
No
3. What is your favorite meal of the day?
Breakfast
4. Do you text on your cell phone?
Yes, lots!
5. Waffles or pancakes?
Both, mmmmmm