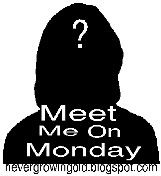 Questions:
1. Do you like your ice cream in a dish, waffle cone, pretzel cone, sugar cone or cake cone?
Waffle cone with a chocolate bottom!
2. Do you read the newspaper daily?
I flick through and read what appeals to me but rely on OH for important info!
3. Marinara or meat sauce?
Either but usually meat
4. Last time you cried?
Yesterday, at the moment I cry at the drop of the hat.
5. What word/phrase do you find really annoying?
'du ya know wha I mean?' or 'init, blood' for those of you asking about what 'init blood' means it's just what some of the kids say almost as a greeting!