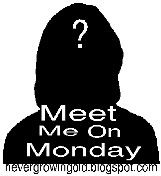 Questions:
1. How do you order your steak?
2. Are you superstitious about anything?
3. Who is your best friend (not including your spouse)?
4. When is the last time your wore a dress (for the guys...a suit)?
5. Do you have any trips scheduled?
1. Don't eat steak.
2. Not really.
3. Mary picture here with her husband Bernie.
4.?????? cannot remember!!!
5. Holiday in July 2011 to Portugal and Egypt in October